We have opportunities for anyone who wants to help PSRS.  See which one is right for you.  For more information, or to talk about how you can get involved, contact us.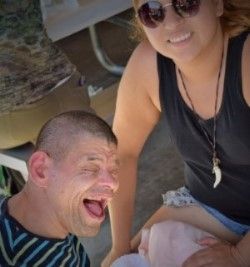 Volunteer
Do you own a truck?  Like to landscape? Good with a hammer?  Put your skills to work in your community. There are often needed maintenance projects at the homes of the people we support, such as yard work, fixing a leaky faucet, painting, creating a more functional environment with adaptive equipment, or other handy work. Many individuals cannot afford to pay for costly repairs or maintenance upkeep, and many are not physically able to complete the work themselves. Your gift of one or two Saturdays a year can make a huge difference in the comfort and safety of one of your neighbors.
Other valuable, always in demand skills and experience include: Fundraising and event planning, plumbing, carpentry.  
Shop Amazon Smile
If you shop Amazon, you can make a difference for PSRS. Just go to smile.amazon.com and select Puget Sound Regional Services as the organization you would like to support.  Then shop.  It's that easy.  And anytime you place an order via smile.amazon.com, a portion of your purchase amount will be donated to PSRS.  Every dollar counts!
You can boost your giving power even more by ordering needed items.
Become a Board Member
You can make a difference serving on the PSRS Board of Directors.  We are looking for people who can make a modest time commitment to help oversee and improve our operations, focus on fundraising, and bring professional skills, expertise, and diverse perspective to our organization.  This is a great way to give back, and to support a cause you care about.  If you are interested in learning more, we would love to hear from you.  Please reach out to us at: board@gopsrs.org
Help us grow the PSRS community
PSRS is a local non profit but we have a far reach. We support people throughout King County (that's a 2300 square mile area!).  We need your help to tell our story, and yours.  
Social Media  If you use Facebook, Instagram, Twitter, LinkedIn, etc., you have a platform to reach friends and followers – let them know why you support PSRS, and how they can join your efforts.  Promote fundraisers and campaigns, or start your own FB fundraiser.  We are happy to help - let us know how we can partner with you.
Friendraisers  This is a gathering, party, casual get together, or formal event you host, in part to tell your guests why you support PSRS and how they can get involved.  Contact us for more information, for materials you can provide to guests, or to invite us to join you.
Do you have ideas for a PSRS fundraiser?  Let us know!
Network Who do you know at work, on your block, within your spiritual congregation?  These are just a few of the places where you have regular opportunities to engage your friends and acquaintances about PSRS.  If you know people who are looking for ways to get involved in their community, send them our way!  
Sponsors Do you know someone who owns a business?  PSRS is looking for companies who would like to sponsor our organization, or to provide a space for events.