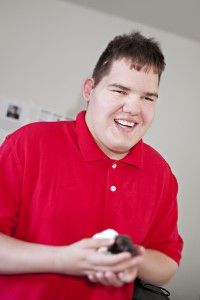 Shaine loves animals, particularly dogs. He eagerly checks his mailbox for one of his multiple animal magazine subscriptions, asks to buy dog food when visiting the grocery store, and loves to watch dogs at the park. He even painted a ceramic dog dish that he fills with cereal and places on his floor in hopes that a dog will come live with him. While this might sound like interesting facts about Shaine's personality, for PSRS this insight is vital.
Taking what we knew about Shaine's interests–his affinity for dogs, his tidiness, high energy, love of adventure and outdoor activities, and eternal optimism, PSRS carefully matched the right people to work with him. In fact, most of the staff members who work with Shaine either have a dog or have family with a dog. Shaine is able to visit their pets and benefits from working with people who share his interests, who care about what makes him happy.
By respecting his personal preferences, PSRS staff are able to help Shaine become more independent. For the past several years, Shaine has worked with PSRS staff members to complete the daily tasks of living: cooking; shopping; household chores, such as laundry and dishes (both of which he loves to help with); personal care; recreation; therapy (especially dog therapy); transportation to and from medical appointments; and, of course, many visits to the dog park. 
"I chose PSRS for Shaine because communication is such a big issue for him. Besides being developmentally disabled, Shaine is also deaf and uses sign language as his primary form of communication. I wanted him to have staff that knew sign language and would help teach him more sign language. I have seen an increase in Shaine's receptive sign since he has been with PSRS. Through relationships Shaine has built with his staff, I am always assured that Shaine is well-cared for. I believe that it takes a village to raise a child, and in the case of people in this population, the village becomes extended to many, many people. Without PSRS, he might have ended up in a state institution where he had lived previously for a time. For sure Shaine had a rough transition, but PSRS never gave up on him. They looked for creative solutions to support him in a way that he could be successful in the community."
–J.T., Shaine's long-time friend and guardian.