We connect people with their communities.
At PSRS, we understand that individuals with developmental and intellectual disabilities have unique needs and opportunities to contribute to the community. Our objective is to empower these individuals to experience a high quality of life by increasing their ability to accomplish activities of daily living and fostering active participation and inclusion in the community. 
In 1983, PSRS began by providing intensive tenant support services to four Deaf-Blind adults with developmental and intellectual disabilities in the Renton Highlands. In 1985, PSRS incorporated as a 501c3. We now have more than 250 staff members who support nearly 70 individuals in locations ranging from Queen Anne to Renton, SeaTac, Kent, Federal Way, and Covington.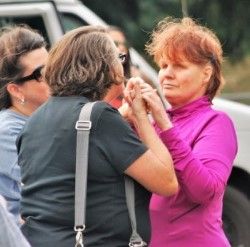 PSRS is currently the largest supported living provider in WA state that tailors its services to meet the needs of Deaf, Blind, and Deaf-Blind individuals with developmental and intellectual disabilities. Our committed, well-trained and professional staff members work diligently to identify and meet each individual's needs.
PSRS' investment in people also extends to the way we view our staff. Our philosophy is that staff should be provided with opportunities for professional growth and development.  We recruit from within, advancing the careers of staff who have experience working directly with the individuals we support, who understand our mission, possess in depth knowledge of our programs, and who have received numerous hours of training. This helps guide the future of PSRS, while maintaining a strong understanding of what services and support the individuals we serve actually need.
We believe that this approach—like all that we strive to do—is best for the individuals we support, for their families, for our staff, and for our communities.