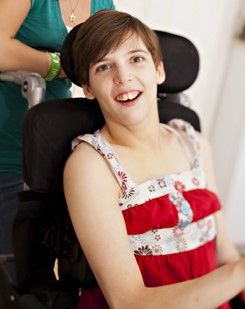 Her beautiful smile is one of the first things you notice about Melissa. She radiates warmth and a sunny disposition. Her friendliness and outgoing nature draw new and old friends alike. Like many young women her age, Melissa enjoys movies, swimming, eating good food, and hanging out with friends.
Thanks to the PSRS staff, Melissa has become more immersed in her community. She has benefitted from recommendations ranging from age-appropriate clothing to health care options, as well as attending cultural events and other activities with people her own age. All of these changes have given her a chance to enjoy expressing herself.
One of the biggest changes in Melissa's life since partnering with PSRS over 10 years ago is the enhanced communication she receives. Melissa is deaf - while living at home, her family did their best to communicate using basic sign language, but now, according to her mom, "Melissa is around staff and roommates who are signing and actively making what's going on accessible to her, day in and day out." As a result, Melissa is more connected to her own decisions and feelings; she is able to be more independent.
"Caring for Melissa can be physically demanding. PSRS has done an excellent job of training staff and helping them figure out effective transfers from wheelchair to other locations while requiring Melissa to do as much of the work as she can. When the care gets rotated between many different people, all of whom really enjoy Melissa, then nobody gets physically drained or injured from the work of caring for her."
–W.H., Melissa's mom and guardian.