Advocacy is so important when it comes to Supported Living.  People with developmental and intellectual disabilities are rarely a priority for statewide funding.  Staff must deal with sky rocketing living costs while wages stagnate. 
PSRS is committed to bringing visibility, voice, and attention to the challenges endured by supported living providers, the people we support, and our dedicated staff.  We always need help - you can get involved.  Learn more by reading some of our stories, and talking to your legislators.
Check out some of the stories below to find out how you can be an advocate for people with developmental and intellectual disabilities, and for supported living.  Visit our Resources page for more.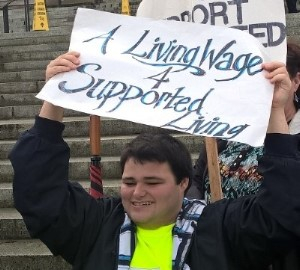 Do you know your legislators? Find them. Contact them.