Above and Beyond
Darion Mallard came to PSRS about five years ago to make a difference.  And he has.  He previously worked for nine years as a home care provider for the elderly and recovering stroke patients helping people in their daily lives.  Then Darion met a PSRS staff person and decided he wanted to try something a little different.  
Darion is a retired Marine - as someone who has been in active combat, he faces challenges associated with PTSD.  He understands what it is like to need support and encouragement from others.  His unique perspective and experience have helped him to foster a special connection with the person he supports.  Darion works with Joel who for many years had a hard time leaving his home, being in public places, and identifying activities he found enjoyable or even tolerable.  With patience, determination, and a true interest in changing Joel's life, Darion took his job beyond the daily duties.  As the two became closer, it was clear Joel had found someone who got him, someone who would inspire him to come out of his shell and who he could trust enough to try to new things with.  Darion found a way to channel his challenges and past experiences into a meaningful and affirming relationship.  Joel has become an important person in Darion's life and vice versa.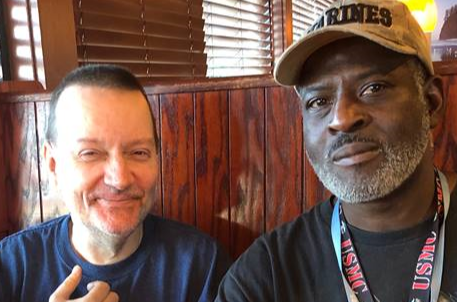 Joel used to refuse to leave his home and was often very anxious when he did.  But because of Darion, the support team, and guardian, Joel is now engaging in community activities regularly.  He goes on vacations to the beach, to restaurants, Woodland Park Zoo, PSRS events, and he can even participate in his own planning meetings which he never did before.  He goes to the grocery store, pushes the cart, and selects items from the shelves. Joel smiles a lot more now.  He does a lot more.  Because of Darion and the team, Joel has opportunities that no one thought possible before.  Darion is excited to see this change - "It's awesome to see how far he has come and I'm happy to be with him".   
Like a true Marine, Darion appreciates a challenge, doesn't give up, and he takes care of his team.  He is not only invested in ensuring Joel's health and safety, but also his quality of life. Darion has been invaluable as a team leader, teaching and mentoring other staff to successfully support Joel.  "From day to day, I can't see not being around him".  Darion brings his fondness for Joel to the staff team and wants to see others form closer relationships with him too.  He knows how important this is for Joel's continued success. This transformation would not have happened without Darion's commitment, kindness, and true desire to see Joel succeed.  It's not every day PSRS, or the people we support find someone so invested in creating positive change in another person's life, in lifting them up and helping them reach their full potential.   
This is why Darion was recently chosen as the recipient of the very special John Leoni Partnership in Advocacy Award, awarded annually by the Community Residential Services Association (CRSA).  It is given to an individual who has made a positive impact in the life of a person with a developmental disability through advocacy. Some of the criteria includes:
Encouraging people with disabilities to reach their full potential
Encouraging people to act for themselves
Going the extra mile to help people be involved with their own lives
Stays positive, shows patience and has fun
Demonstrates flexibility by taking on tasks, managing their own schedule to benefit others, and helping to make things work
PSRS sincerely appreciates and thanks Darion Mallard for his service to our country, and for his dedication to making a positive impact in the lives of people with disabilities.  He is a true role model and we are proud to have him on our team.