Back on Track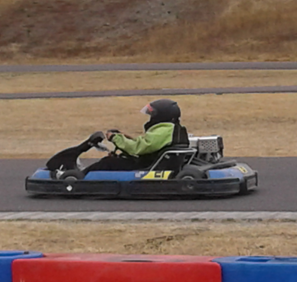 LaDarla has a special hobby...driving.  She was last at the Pacific Grand Prix Motorsports Park go cart track in Kent over two years ago and made it her mission to return. This time around, LaDarla used her previous experience to increase her lap time (by 2.7 minutes) and drive a longer distance on her own!   She was much more confident this time and loved driving again. 
Program Manager Krista Aragon took LaDarla to the track last time and was excited to return with her this year (Krista loves to drive race cars herself).  LaDarla has mobility challenges and often uses a wheelchair.  She has always wanted to drive but due to physical limitations, she is not able to obtain a license, or operate a street vehicle.  Learning to drive and practicing in the go cart is a safe and super fun way for LaDarla to have a real driving experience. After a successful and exciting track adventure, LaDarla felt ready to go again and tried to talk Krista into her driving the two of them home!  
The minute she left, LaDarla was already talking about her next trip back.  Krista plans to be driving on the track with her and can hardly wait. Go speed racers!