Breaking Barriers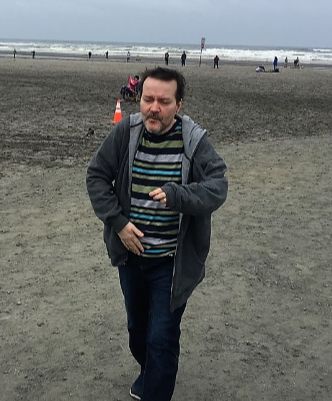 For many, going on a vacation is a welcome and needed break from the daily grind. But imagine if going on a trip felt more like hard work. For some of the people PSRS supports, there are real barriers to making a vacation possible. What if you found it hard to leave your house or stay in an unfamiliar place? How do you afford a get away on a very limited budget?  Sometimes just going to a community event can take significant planning and coordination - there's transportation, staffing, financial considerations, and other logistics to work out. PSRS helps people work towards reaching their goals and finding new ways to enjoy the world around them.
Joel is a bit of a homebody - he prefers to be in the comfortable, familiar, and safe environment his home offers.  He has a lot of energy at times and may find it hard to sit still or relax. He likes order - everything has its proper place. He prefers to spend a lot of time alone in his room, or without interacting much with others. But Joel also enjoys the beach, and short trips outside of his home when willing. PSRS and his guardian wanted to offer Joel the opportunity to explore his community more often, and introduce him to new experiences. 
Last August Joel went on a vacation to the kite festival in Long Beach, WA accompanied by two staff members. This was a busy, unfamiliar environment but Joel not only endured it, he actually had a great time!  His next adventure is planned for July - Joel's guardian has arranged for him to stay at a beach house which we think he'll enjoy very much. Joel's support team is also helping him reach a goal to get out in the community once per week for lunch or dinner at a local restaurant.  With some practice and effort, he has been able to sit, eat his meal, and interact with staff for over an hour.  This is amazing progress and it's great to see Joel wanting to get out more, enjoying activities outside of his home! 
PSRS is the largest Supported Living provider in WA state for people who are Deaf-Blind with developmental and intellectual disabilities.  It takes special skills and training to appropriately support people who are not able to hear and see; some of whom do not have a formal way of expressing their needs or receiving communication from others.
Darrin and Kellie are both Deaf-Blind; they were able to experience the Christmas lights display called Enchanted at Safeco Field this past December thanks to their support team and staff. You may ask how someone who is not able to see or hear can enjoy such an activity.  Both Darrin and Kellie were able to move and touch their way through a maze and the displays, feeling the brightness and warmth of the lights.  They enjoyed the smells of food and crisp winter air. They definitely liked the taste of pizza and candy canes.  Darrin and Kelly were happy to feel, smell, and taste their way through this winter light wonderland.  
PSRS supports almost 70 people, each with unique interests, abilities, and goals in life.  We are invested in supporting and empowering people to engage in their communities in ways that are fulfilling for each individual.  Whether a person is anxious about leaving their home or is not able to see or hear, our staff are committed to introducing individuals to new experiences, and supporting them to do the things they love to do.