Celebrating DSPs - It's DSP Recognition Week!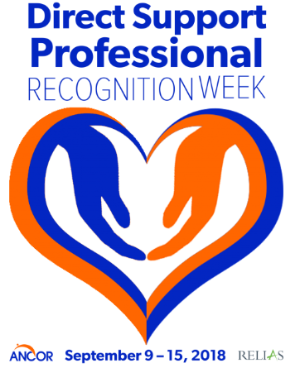 It may not be as well known as Shark Week but Direct Support Professional Recognition Week is a huge deal! 
PSRS would not exist without Direct Support Professionals (DSPs) who do a critical, challenging, and demanding job.  One week per year dedicated to our DSPs is simply not enough!  How many occupations do you know of where the job description includes: teacher, task manager, driver, personal care assistant, cook, errand runner, support specialist, cleaner, financial assistant, medication administrator, healthcare manager, trainer, life skills coach, advocate, reporter, and data analyst?  These are some of the core responsibilities our DSPs are tasked with on a daily basis...and for less than a competitive wage!  
DSPs have such a special role to fill - it's not just about ensuring health and safety, but helping those they support to work towards their life goals, build skills, and lead fulfilling lives in the community.  We asked some of the people we support what they think about their direct support staff:
"I'm happy I get along with my staff. Some of them have worked with me for many years."
"Most staff I get along with.  Some are very helpful and takes us to where we need to go.  It's sometimes more a friend-type relationship."
"They're cool.  They're very nice.  My PM staff is a sweetheart."
DSPs often work closely with family members and guardians - it is a team effort to ensure people have what they need to be successful in the community, and to provide the right support based on unique and individual needs:
"I am so appreciative of the staff who care for the clients.  It's great to know that the staff are getting the clients up and going, fed, safe in emergencies, and out to the community. It can be challenging work.  I appreciate each staff's patience, kindness, humor and perseverance. Thank you!!"
"The caregivers that I have either met or have spoken with on the phone are very much liked by the clients. They have a kindness towards the clients that make me feel really good about their skills. I was impressed with the way some of them care for the client especially when they need medical care.  The clients clearly being with the staff."
PSRS is so appreciative of the people who have committed themselves to doing more than a job, but to building relationships, and accepting huge responsibilities geared towards enriching the lives of people with developmental and intellectual disabilities, and hopefully their own.  As our way of saying thank you to DSPs this week, PSRS is giving each one a special gift, and making sure they know how much we appreciate all they do. 
If you have a DSP in your life, make sure to let them know how much they mean to you...and ask them to keep being a DSP! If you do not know a DSP and would like to show how much you care, or you do know a DSP and would like to honor their commitment to supporting people with disabilities in the community, consider a donation to PSRS.