It's Snow Problem
You know you have a special team when the Executive Director is out shoveling snow!  We actually have an amazing team who worked extra hard for days ensuring the people we support stayed safe during a long, heavy snow storm.  We are a 24/7, 365 day per year service provider - that means that no matter what, we are committed to making sure the people with disabilities we support have what they need to be comfortable and safe in their own homes.  So what does that look like?
PSRS rented a Jeep in addition to our agency 4x4 vehicles and our employees' personal SUVs/trucks to help as many staff get to work as possible.  Program teams ensured homes were stocked with ample food, bottled water, and emergency supplies. Staff were provided with overtime options and alternative places to stay.  PSRS had back up plans addressing power outages, and any other urgent matters including hotel rooms that were reserved and available if needed for any clients experiencing extended power outages.
We have not seen a storm like this in quite some time - it took amazing coordination and effort to keep people safe and supported!  Somewhere around 200 rides were provided by directors, managers, other staff, and administration to staff who were stuck without transportation so they could get to their shifts, to and from over 20 client homes, traveling through eight different areas –  Federal Way, Kent, Auburn, Covington, Renton, Maple Valley, Tacoma, and South Seattle.  We don't yet have the mileage tallied, but it's a lot!

Nearly 30 administration team members engaged in some way throughout the entirety of the storm arranging transportation for staff, driving, or covering shifts. They helped shovel snow and ice at the office as well as at many of the homes, and walked staff through precarious pathways of ice and slush so they arrived to the door or car safely. They assisted staff whose vehicles were stuck in the snow, brought additional supplies to homes (including space heaters to a house with four residents whose furnace broke), transported clients during power outages to safer places, and communicated and coordinated with family members. Our direct care staff ensured people were safe, warm, had meals, were given their medication, and received whatever supports they needed during this challenging time.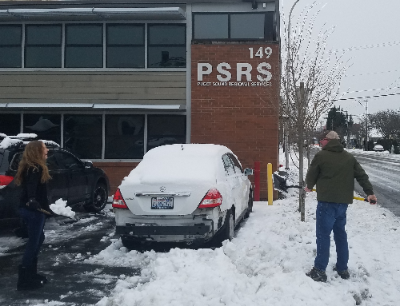 PSRS is very lucky to have such dedicated employees who sacrificed sleep, time with their own families, and other priorities to ensure the safety and support of our clients and staff, both physically and emotionally.
THANK YOU to all the wonderful PSRS employees for braving the cold, icy, snowy roads and sidewalks to make sure those PSRS supports had what they needed during this epic storm.