2017 Supported Living Advocacy Day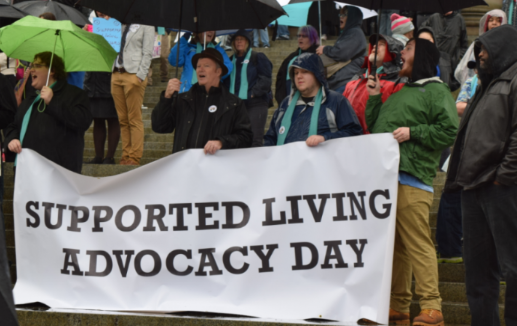 If there is one thing you know about living in the Pacific Northwest, it's that there is always a chance of rain.  And this year's  Supported Living Rally in Olympia proved to be a wet one.  But that didn't stop us – rain or shine, we make our voices heard!
We braved the rain and cold to get the message out.  PSRS staff, self-advocates, families, and several other Supported Living providers gathered at the state capitol to let everyone know that we need more funding for the critical work we do, especially for our direct support staff.  PSRS Executive Director Chad Higman has been a very active and vocal advocate for several years.  As the Chair of the Community Residential Services Association (CRSA), Chad and other members are united in the fight for funding increases that will help promote choice and quality services for people with disabilities.
We also took the opportunity to meet with legislators and share stories of what Supported Living means to our staff, families, and the individuals we serve.  Living in the community offers choice, empowerment, and provides vital supports that promote healthy and fulfilled lives.
Call or email your legislators now (before June 2017)!  Tell your senators to support the $39.5M funding proposal for Supported Living.  To find your legislators:
Call:  1-800-562-6000 | Visit: app.leg.wa.gov/districtfinder
Check out this great video recap of the rally here