It's Tee Time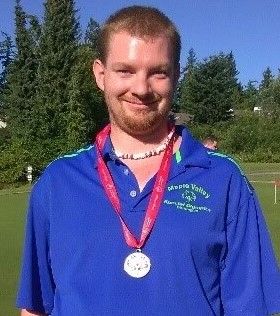 Bust out the clubs, it's tee time!  The annual Mercury Pharmacy Golf Tournament is coming up. PSRS has been working with Mercury for nearly 10 years to provide medication and health care for most of the individuals we support.  A portion of the proceeds from the tournament will be donated to PSRS – Mercury has helped raise thousands of dollars for PSRS over the past several years.
This year, we have a special player joining the PSRS team.  Preston, one of the individuals PSRS supports, will be showing us his skills as he participates in the tournament for the first time.  An avid golfer, Preston started taking lessons when he was just 7 year old.  Twenty years later, he (along with his golfing partner) is a gold medal winner in the Special Olympics WA golf regionals!  Congratulations to Preston for this outstanding achievement – PSRS  wishes him the best of luck in the State finals at Walter Hall Golf Course in Everett, WA on August 19th.
Preston has been to more than ten golf courses – his favorite is Jackson Park (north Seattle).  His dream golf experience is at Wolf Creek in Las Vegas Nevada, followed by Pebble Beach in Monterey California.
Preston loves the game – he finds it relaxing, and also enjoys being active outdoors (he is also a bike enthusiast).  He plays once or twice per month, and occasionally will hit the course with some family members.  PSRS is excited to have Preston join our team and help raise some money for PSRS.
Come on out and enjoy a beautiful summer day, see gold medalist Preston swing the club, and  support PSRS.  We hope to see you there!  More info here.
SPECIAL THANKS TO STEVE BOULANGER, ED MASON, & OUR FRIENDS AT MERCURY PHARMACY for their years of support and generosity!